To confirm whether or not someone received an eService notification (proof of service) from the Service Contact list of a filing, please follow the steps below.
1. On the Dashboard menu, click Filing History.


2. Locate the specified case for which you want to view the envelope details.
3. Click the "Actions" icon directly to the right of the envelope .

4. Select "Envelope Details" from the dropdown menu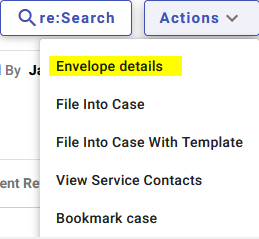 5. Scroll down to the Service Contacts section. Displayed will be the email(s) indicated for eService and whether the email has been sent successfully or not, and the date opened.
Note: Service section only appears if the option eFileAndServe or Serve was selected. Check your filing type in the Filings section to confirm.