Waiver accounts are used to waive or bypass paying all filing fees if the court finds you eligible. Waivers are typically used for government entities and filers who are unable to afford court fees.
If you are part of a firm, only the Firm Administrator will be able to set up a waiver account.
Individual filers can follow the same instructions below.
Click on the 3 horizontal lines at the top left and select Firm Management(for legal professionals), then Payment Accounts or My Payment Accounts.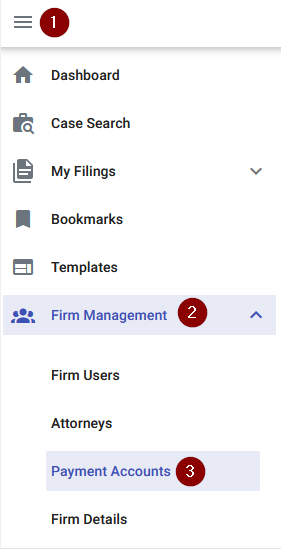 Note: Only Firm Admins can add new payment accounts.
Right side of the screen, click the +Add Account button.
1. Name the Waiver Account.
2. Click Waiver for Payment Type.
3. Click Waiver for Account Type.
4. Click Save.