Hearing dates in Cook County can be scheduled after submitting a filing. Hearing dates are enabled based on what options are selected in the Filings tab.
The Case Cross Reference Number section will require just the Cook County Attorney Code/Self Represented Litigant Code to be Saved. Click here for more information about the Case Cross Reference Number.
In the Filings tab, select a Filing Code that contains the word "Motion". In the Filing code drop down menu, select the code that fits closest to the case type or motion type. When the filing code is selected, a motion type will appear below the filing code. Click the Motion Type box and select an option in the drop down menu.
Continue through the Filings tab by selecting the Lead Document and saving all changes. Click here for further instructions on completing the Filings tab.
Complete all other tabs.
Continue to progress through all Tabs of the filing until you reach the Summary.
After clicking Submit, a list of dates will be select-able. Click Save after choosing a date.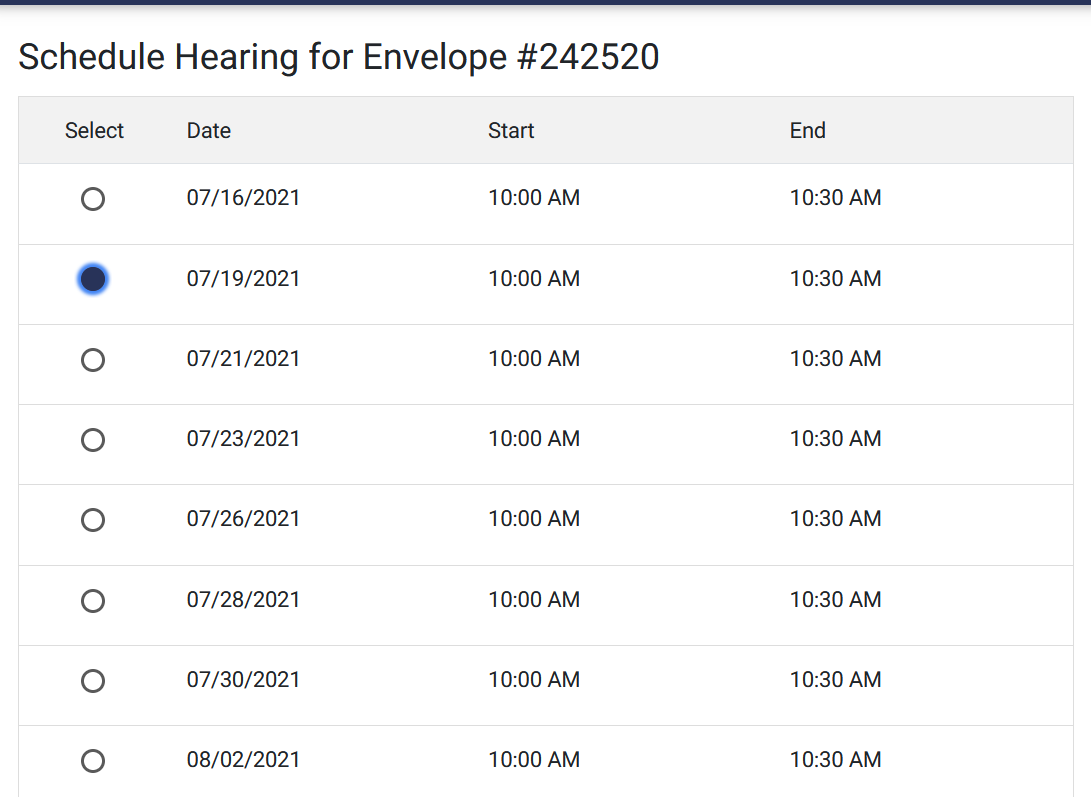 If you have properly filled out the Filings section such as selecting the Motion type, and you are still unable to select a Hearing Date upon submission, it is recommended that you contact the court you're filing into for assistance in scheduling the date.
Tip: If a filing is still in a submitted status, the link to schedule a hearing date can be found in the View Details found in Filing History. Click the Schedule Hearing button at the bottom of the envelope details to re-attempt to schedule a hearing date.
Note for Probate Division only: You will no longer have to file a subsequent filing to schedule your Opening Case Management Hearing Date. The system will now generate your Opening Case Management date when your new case is accepted. The court date and time will print on the face of your eFiled documents.