How should I write my case number?
If you are uncertain of what case format to use when searching, try the county specific formats provided first. If you are still not able to find your case, search by party name. If you continue to have issues please verify your case number with the court.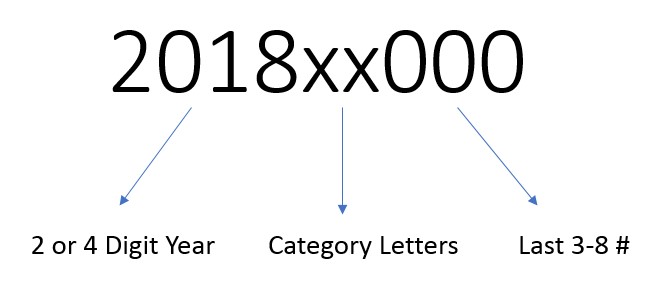 Why are these formats important?
Having a better idea of what case format to use will help filers find cases easier and prevent duplicate case listings throughout your state. In some instances, you may be required to manually input the preliminary case information for non-integrated courts.
Disclaimer.
The formats provided are for informational use only and can change based on court procedures. This is only a suggestion as to the most commonly used case format at that location. We do not guarantee your case will be found when using these formats. We are not responsible for filings rejected due to incorrect case number formatting. If the court you are filing into is not listed below, we do not have a designated format for that location. In that situation, it is suggested that you search using the case number as it is written on your documentation, or that you search by party name.
Cook County case number formats, click here.
| | |
| --- | --- |
| Court | Case # Format |
| 1st Appellate District* | 1-18-0000 |
| 2nd Appellate District* | 2-18-0000 |
| 3rd Appellate District* | 3-18-0000 |
| 4th Appellate District* | 4-18-0000 |
| 5th Appellate District* | 5-18-0000 |
| Bond | 2018XX000 |
| Boone | 2018XX000 |
| Christian | 2018XX000 |
| Coles | 2018XX000 |
| Fayette | 2018XX000 |
| Jefferson | 2018XX000 |
| Jo Daviess | 2018XX000 |
| Kane | 18-XX-000000 |
| Livingston | 2018XX000 |
| Logan | 2018XX000 |
| Macon | 2018XX000 |
| Marion | 2018XX000 |
| Marshall | 2018XX000 |
| McLean | 2018XX000000 |
| Montgomery | 2018XX000 |
| Moultrie | 2018XX000 |
| Ogle | 2018XX000 |
| Peoria | 18-X-00000 |
| Putnam | 2018XX000 |
| Rock Island | 2018XX000 |
| Saline | 2018XX000 |
| Warren | 2018XX000 |
| Wayne | 2018XX000 |
| Whiteside | 2018XX000 |
| Will | 18XX000 |
| Williamson | 2018XX000 |
| Winnebago | 2021-XX-0000000 |